UWT Depot Waalhaven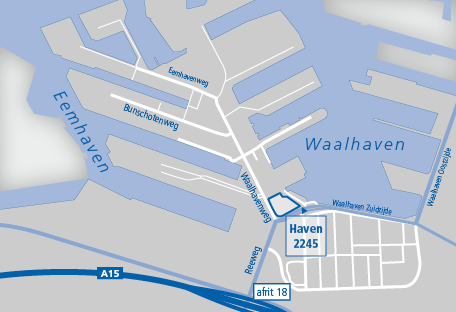 CONTACT

ADDRESS, OPENING HOURS
Address
UWT - Depot Waalhaven
Harbour nr 2245
Waalhaven West Zijde 60
3089 KR Rotterdam
The Netherlands

Opening hours
See below, excluding national public holidays as listed on home-page
Terminal
Monday - Friday, 06.00 - 21.45 hrs
Saturday, 07:00 - 13:00 hrs
Work breaks
Morning 10.30 - 11.00 hrs
Evening 18.15 - 18.45 hrs
Equipment control
Monday - Friday, 09.00 - 17.00 hrs
Barge and truck planning
Monday - Friday, 06:00 - 21:30 hrs
Saturday, 07:00 - 13:00 hrs
Terminal weekend

On Saturdays one centralised desk is manned for handling of depot and barge traffics.
This desk is located at the Bunschotenweg, serving the locations at the Bunschotenweg and Waalhaven Terminal.
Saturday deliveries and pick-ups are preferred by use of the Cargo-Card.
Booking and delivery references can be checked via our track & trace website.
Failing or absence of Cargo-Card use can create delays.
If a reefer must be picked up on Saturday with special settings, this must be notified no later than the Friday before.
UWT is closed on Sundays and official national holidays.
OPERATIONAL DETAILS
| | |
| --- | --- |
| Storage capacity | 8,000 TEU |
| Transhipment capacity per year | 200,000 TEU |
| Repair facilities | Yes |
| Cleaning facility | Yes |
| PTI facility | Yes |
| Container crane | 1x Gantry |
| Capacity | SWL 21 tn |
| Depot | 83,000 sqm |
| Reefer plugs | 80 reefer power plugs |
| Quay length | 185 metres |
| Depth alongside quay | 6.5 metres |
| Transport | Own trucking service for empty and full containers |